We Build Full Custom Trailers
Topline Trailers are the epitome of Custom Builds. Our designs are vast and universal that provide functionality and creativity with the needs of our client at the forefront of the build.
We understand the importance of having a trailer that works for YOU. We understand what works for one does not necessarily work for others. Our custom builds are designed to make life easier whether that be for work, leisure or home environments.
Our very thorough process begins with a detailed design of specifications with our client giving the final go ahead before their build is commenced. Constant communication between Topline and our client is crucial. Once the build is finalised and all Quality Control Checks are completed, our client is encouraged to have a final inspection of satisfaction.
Our service extends beyond the purchase of your new custom trailer. After market is vital to the longevity of our clients trailers. With the right maintenance and care, one can see their trailer lasting for many years to come. We recommend a Topline Trailers service every six to twelve months dependant on the usage of trailers.
Custom Police Trailer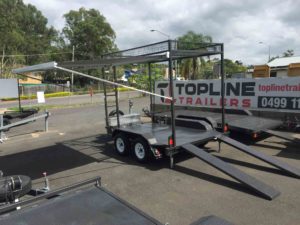 10×6, 2t GVM Flat Deck with Slide Away Ramps, Ladder Rack with Storage Basket with Accessible Ladder, Wind Out Awning, Rear Jockey Stands, Jerry Can Holders and Drawbar Tool Box.
Custom Table Top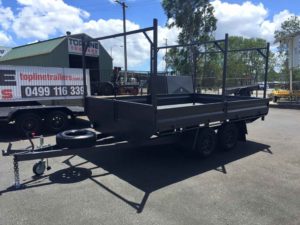 3.6m x 2.3m Table Top, 2.8t GVM, 3mm Checker Plate Floor with Removable Ladder Racks
Custom Lawn Mower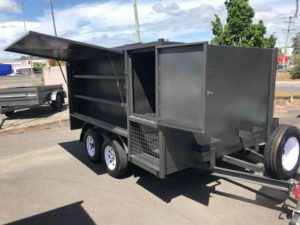 8x5x1500mm high, 2.9t GVM, 650mm wide front push mower box with ramp and inner compartment, 3 shelf wiper snipper box on both sides
Custom Builders Trailer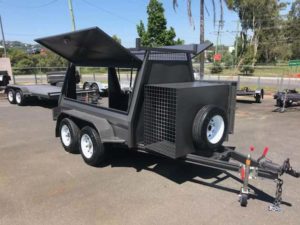 8×5 Extra Heavy Duty 2t GVM, one piece construction, 2 side lift up doors with gas struts and T handle locks, 7 leaf rocker roller suspension, drop down rear ramp, heavy duty ladder racks with mesh storage basket, extra large compressor box.